Youth Programs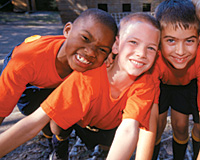 Scouting programs include Cub Scouts, Scouts BSA, Venturing, Scoutreach, Learning for Life and Exploring. Specifically geared toward different age groups, interests, abilities, needs, and settings, the programs address character development in the 21st century.
Scouting has come a long way in nearly 100 years. Changing as the community and needs have changed, the Boy Scouts remain true to its mission. Today, the Denver Boy Scouts — in addition to its core programs — offer non-traditional programs for inner-city youth, as well as venturing and exploring programs specifically geared to young women and men, ages 14-20.
Cub Scouts is broken down into three groups — Tiger, Cub and Webelos — and is the first and biggest of the Scouting programs. All three year-round family and home-centered programs encourage ethical decision-making skills, and are geared to specific age groups. If your child enjoys camping, building things, field trips and sports, then Cub Scouts is for them.
Tiger Cubs (youth who are in the first grade or 7 years old) are just getting the hang of being a Scout, so the program emphasizes shared leadership, learning about the community and family understanding. Tiger Cubs participate in the program with their adult partners.
Cub Scouts are 8, 9, and 10 year-olds in grades 2-5. Activities emphasize character development, citizenship training and personal fitness.
Webelos Scouts (10 year-old boys). Webelos Scouts participate in more advanced activities that begin to prepare them to become Scouts BSA.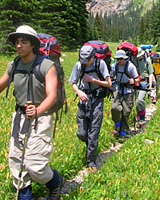 Scouts BSA is the second Scouting program and is tailored to youth 11-17 years old. This year-round program emphasizes vigorous outdoor activities, and developing leadership skills and teamwork — all under the guidance of an adult Scoutmaster. (Youth also may become Scouts BSA if they have earned the Cub Scouting Arrow of Light Award and are at least 10 years old or have completed the fifth grade and are at least 10 years old.)
Venturing is a year-round program for young men and women who are 14 (and have completed the eighth grade) through 20 years of age to provide positive experiences through exciting and meaningful youth-run activities that help them pursue their special interests, grow by teaching others, and develop leadership skills.
Sea Scouts is a specialized segment of the Venturing program, which was organized to address members' boating skills and promote knowledge of our maritime heritage. Sea Scout units, called "ships," focus on sailing and cruising either sailboats or power vessels.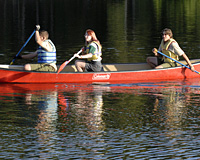 Scoutreach is a division within the Denver Boy Scouts with an emphasis to recruit strong adult leaders and to develop strong relationships with chartered organizations in urban, suburban and rural areas, removing financial barriers to ensure that all youth have the opportunity to join Scouting.
Learning for Life was developed to meet the critical needs of our nation's schools and communities. Youth today have more needs than ever before. Learning for Life is designed to support schools and other youth-serving organizations in their efforts toward preparing youth to successfully handle the complexities of today's society and to enhance their self-confidence, motivation, and self-worth. Learning for Life makes academic learning fun and relevant to real-life situations. It helps youth reach beyond themselves by placing them in situations that help them to understand and act constructively. As a result, the values and skills learned by participating in Learning for Life not only make youth more confident and capable, but give them an invaluable understanding of how things work in the real world. A subsidiary of the Boy Scouts of America, Learning for Life prepares youth to make ethical decisions that will help them achieve their full potential.
Exploring is a worksite-based program. It is a part of Learning for Life's career education program for young men and women ages 14-20 years old and have completed the eighth grade.